Covered Calls
Welcome to the Great Option Trading Strategies Covered Calls page. Explore all aspects of writing calls with these comprehensive resources for selling call options.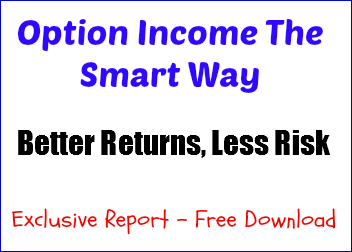 Covered Call Resources and Pages
Covered Call Basics - See overview and quick explanation of covered calls. Call writing explained and walked through.
Covered Call Terminology - Key covered call terms and concepts defined and explained.
Covered Call Examples - See examples of covered calls and how the different scenarios can impact the outcome of the trade.
Best Stocks for Covered Calls - What are the best call writing stocks? Here are 5 important criteria to consider when choosing stocks on which to sell calls.
Best Site for Covered Calls - There are a number of online resources for selling calls. How do you determine which ones provide the most value? Here are 3 steps to finding the best site for covered calls.
Part 1 Best Covered Call Strike Prices Comprehensive introduction to strike prices and how they impact the covered call process. The best strike price will depend on your own specific objectives.
Part 2 Picking the Best Strike Price for Covered Calls - Strike price selection explored in additional detail. See 3 different strike price strategies for selling calls.
Best Time to Write Covered Calls - When is the best time to write covered calls? It could depend upon your objectives. See 3 different call writing scenarios.
Naked Calls - So what are they and why are they so risky? Learn the difference between naked calls and covered calls along with seeing some scary, real life examples of what can easily go wrong.
Covered Calls vs. Calendar Spreads - Compare these very similarly structured option strategies and see the advantages of each. Which one is right for you?
Best Expiration Date for Covered Calls - How do you go about choosing an expiration date when initiating a covered call? Explore the different implications of different expiration dates and compare those implications to your own call writing objectives.
Covered Calls and Dividends - Writing calls on stocks that pay dividends is a little different from setting up the trade on non-dividend payers. Discover the relationship between dividends and covered calls in terms of option pricing and the potential risk of early assignment.
Writing Covered Calls on High Dividend Stocks - Selling calls on high yielding stocks may sound like a good idea, but in the end, it's a self-defeating strategy. Learn more here, and discover a more effective option strategy to use a company's dividend cycle to your personal advantage.
How Risky Are Covered Calls? - Covered calls can be set up to be pretty conservative trades. But that doesn't mean that they can't be set up to be more aggressive or risky. Learn the risks associated with selling calls and what you can do to manage those risks.
How to Calculate Covered Call Returns - No matter how or why you sell calls, you're going to want to calculate your returns. Here are four methods of doing so to accomodate everyone from the income trader to the long term Leveraged Investor.
Closing Covered Calls Early - It's important to know when it's in your best interest to close a covered call position early. Whether you're looking to lock in some quick and easy profits or trying to cut your losses when a trade moves against you, there are situations when your best move is to just close the position. Here are 5 times when it might be right to close a covered call early.
Covered Call Downside Protection - Should You Buy a Put? - This article, based on a terrific question I received from a Leveraged Investing Club member, looks at traditional - and non-traditional - ways to protect your covered call positions from downside risk.
Writing Covered Calls on ETFs - Is writing covered calls on ETFs instead of individual stocks a good idea? See the pros and cons here as well as specific tips and guidelines if you choose to go this route.